To reflect international women's day, IWIN 1is putting on a workshop designed to equip and empower participants through exploration of the body as a sight for knowledge.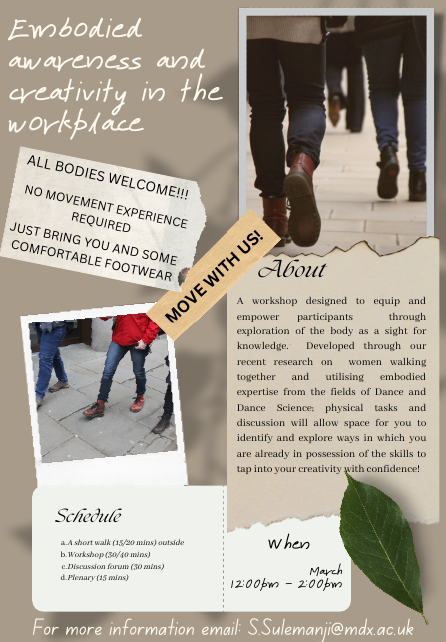 Developed through our recent research on women walking together and utilising embodied expertise from the fields of Dance and Dance Science; physical tasks in the business context.
Discussion will allow space for you to identify and explore ways in which you are already in possession of the skills to tap into your creativity with confidence
Learning outcomes
Enabling
embodied awareness of the self
mindfulness in relation to self and the environment
connectivity with others through movement
Date: Thursday 9th March 2023
Time 12-2pm
Facilitators: Sarah Sulemanji, Claire Farmer (Arts) and Dr. Jyoti Navare (Business Middlesex University )
Contact and Registration: j.navare@mdx.ac.uk
Venue: The event will be in Tamarind room based in SCOR Asia House, 31-33 Lime Street, London EC3M 7HT. SCOR contacts will be Bronte Wilson and Sabrina Kruse
Light refreshments will be provided.
Facilitator profiles
J. Navare https://www.mdx.ac.uk/about-us/our-people/staff-directory/profile/navare-jyoti
S.Sulemanji : https://www.mdx.ac.uk/about-us/our-people/staff-directory/profile/sulemanji-sarah
C .Farmer: https://www.mdx.ac.uk/about-us/our-people/staff-directory/profile/farmer-claire
1 IWIN: Insurance Women's Inclusivity Network – launched and supported by the Worshipful company of Insurers – https://www.iwin-wci.co.uk/