Hello, from Insurance Cultural Awareness Network we have the next event: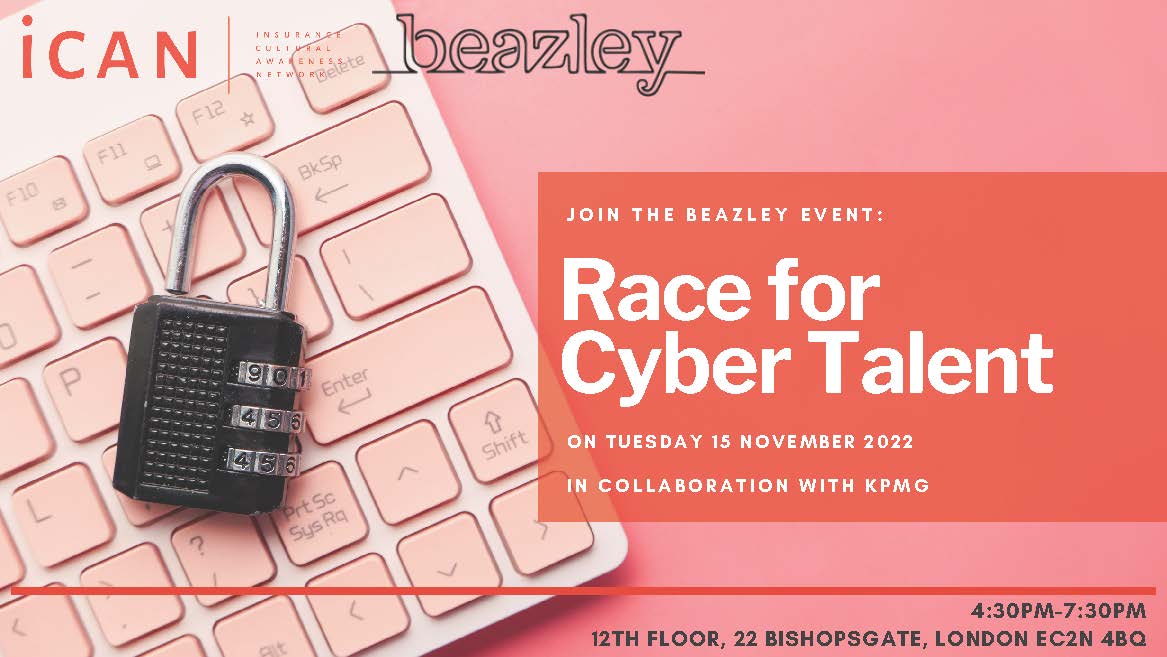 Internship in Summer 2023 in Cyber Insurance!
Are you early in your career and looking for a new opportunity in Cyber Insurance? Or know someone who is?
We are VERY excited to share this brilliant opportunity from our Sponsor  Beazley for ethnic minorities in Cyber Insurance!!
Event details:
*   Date: Tuesday 15th November
*   Time: 4.30pm-7.30pm
*   Location: 12th floor, 22 Bishopsgate, London EC2N 4BQ
*   Register: Beazley's 'Race for Cyber Talent' Event – Registration – Evenium.net
Race for Cyber Talent Event
The evening will consist of an interactive simulated cyber challenge (similar to those that Beazley professionals manage daily) and a panel discussion with Q&A.
The event will be followed by networking with food and drinks – an excellent opportunity to make connections and meet representatives from Beazley's Race, Culture and Ethnicity network and KPMG's Cyber Black Heritage network.
Most importantly, Beazley are offering two attendees the chance to secure an internship at the company during the summer of 2023!
Who should attend?
Black, Asian or minority-ethnic heritage background who are early in their careers, school leavers (aged 18 and over) or university students interested in building a career in the cyber and security industry.
Why choose cyber insurance as a career?
The cyber industry is worth over £10 billion in the UK alone, providing thousands of employment opportunities in both technical and non-technical roles. At the event, Beazley will showcase a few of these roles, including pen-testing, incident management, data privacy, risk management, underwriting and insurance, relationship management and client support, to name a few.